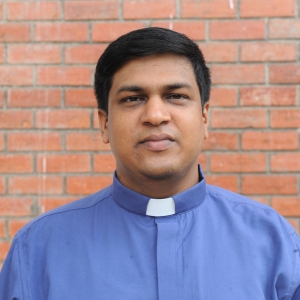 Fr Joy Pradeep Rodrigues S J
Assistant Professor, Post Graduate Department of Business Administration
MBA (Finance& Marketing), 2018, Mangalore University; K-SET, 2018; NET, 2018; PGDIM, 2008, Mangalore University
Significant Achievements
Best Paper Award for Business Plan "Serving the Poor Profitably" Organized by AIMIT, 2019
Attended a 2 day Workshop on Financial Planning organised by KJES from September 6th, 2019 to September 7th, 2019.
23rd TRIENNIAL CONFERENCE on "REVISIONING HIGHER EDUCATION IN INDIA: CHALLENGES AND STRATEGIES FOR CATHOLIC INSTITUTIONS" Sept. 13-15, 2019 at Don Bosco Institute, Guwahati, Assam.
Completed online courses on Coursera from Different foreign Universities, on the following topics: Business Analytics for Decision Making, Design Thinking for the Greater Good: Innovation in the Social Sector, A Life of Happiness and Fulfilment, Excel Skills for Business, Global sustainability and corporate social responsibility: Be sustainable, Leadership and Emotional Intelligence, Learning to Teach Online, Managing Responsibly: Practicing Sustainability, Responsibility and Ethics, New Models of Business in Society, The Science of Well-Being, Global Impact: Business Ethics and Financial Markets.