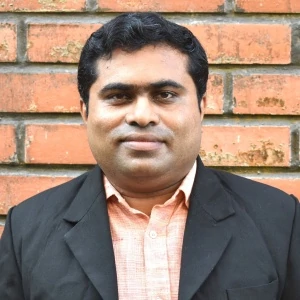 Mr Justine P James
Post Graduate Department of Business Administration
PhD (Pursuing), TATA Institute of Social Sciences, Mumbai; NET (Management), 2013; MBA, 2009, Mangalore University; B.ED, 2006, Mahatma Gandhi University; B.Sc, 2002, Mahatma Gandhi University;
Research presentations
Presented a paper titled as "The synergic role of innovation and sustainableDevelopment in this post Covid VUCA era" at the online Internationalconference on August 20,2022organised by Marian International Institute of Management, Kuttikkanam, Kerala in collaboration with Berjaya University College, Kuala Lumpur, Malaysia.
Presented a paper titled as Rural Women Entrepreneurship at the National Conference conducted by Srinivas Institute of Management Studies, Mangalore
Justine,Rajani & Rowena (2017). "Make in India – Approaches, Concerns and Experiments." at the Third International Conference on Multidisciplinary Business Research at AIMIT, Mangalore on 31st March 2017.
Rajani & Justin (2018). "Cross cultural nuances in Psychological Contracts- an Exploratory Study in the Indian Business School Context" at the International Conference on Society and Management: Indian Culture Vis-À-Vis Western Culture December 7 & 8th, 2018 at IIM Kozhikode.
Publications
Suresh, R., James, J., & R. S.j, B. (2020). Migrant workers at crossroads–theCOVID-19 pandemic and the migrant experience in India. Social Work in PublicHealth, 35(7), 633-643. https://doi.org/10.1080/19371918.2020.1808552
Published a Book Review on the book, 'Talent on Demand' in Aloysius journal of management and research.
Published a Book Review on the book, 'Talent on Demand' in Aloysius journal of management and research.
Beena, Justine (2014), Strategies adopted by Syndicate bank towards Financial inclusion in Kotekar, Mangalore, International Organisation of Scientific Research, Page No.1-9, ISSN (p) :2321-5925
Other significant achievements
Participated in the National Virtual Conference on "NEP 2020: A TransformativeEducational Policy for Aspirational India" organized byInternal Quality Assurance Cell (IQAC) of Kristu JayantiCollege (Autonomous), Bengaluru and Centre for Educational and Social Studies(CESS), Bengaluru in collaboration withBengaluru North University on 15/09/2020 and 16/09/2020.
Guest speaker at Nava Jyothi College, Kannur to I Year M Com students on the topic "Relevance of understanding of Organisational Behaviour to aspiring and practicing managers" on 15-12-2016.
Delivered a Guest Lecture on Relevance of Organisational Behaviour for aspiring managers at Nava Jyothi College, Cherupuzha, Kannur, Kerala on 12-10-2015