St Aloysius Institute of Management & Information Technology (AIMIT) is the new campus for MBA and IT programmes offered by St Aloysius College (Autonomous), Mangalore.
At AIMIT, students come first. All our courses are designed with your career prospects in mind. We offer excellent education, opportunities to engage with industry, facilities, and access to an ever-growing alumni network. The AIMIT experience helps graduates become well-rounded, confident and skilled professionals – making a positive impact in their workplace and community.
Vision
"Empowering youth through excellence in education to shape a better future for humankind"
Mission
St Aloysius Institutions of the Mangalore Jesuit Educational Society, inspired by the person and mission of Jesus Christ, and guided by the motto "Lucet et Ardet" meaning "Shine to Enkindle" commit themselves to spread the light of knowledge and wisdom and to kindle the ardour of faith that does justice by forming men and women for others, who are:
1. Academically accomplished,
2. Emotionally balanced,
3. Morally upright,
4. Socially responsible,
5. Ecologically sensitive
6. Professionally dedicated
7. so that they are a powerful force for the transformation of society.
Educating men and women for and with others
Education for life:
The Jesuit traditions of educational excellence, leadership and service to others will guide all our programs at St Aloysius College (which is a Christian Minority Institution, run by the Fathers of the Society of Jesus). By fusing traditional wisdom and human values with learning and research, the College seeks to foster excellence, creativity and innovation in all our students. Our graduates will be individuals of high ethics, socially responsible, ecologically sensitive, professionally dedicated with a thirst for lifelong learning and commitment to build communities of human solidarity and compassion.
Educating for Leadership
The college welcomes and encourages people of all creeds, races and culture to pursue excellence. It promotes free student-faculty interactions in order develop leadership qualities. The life of St Aloysius, the patron of the college, inspires the administration and students to champion Jesuit values of faith, justice and peace for a better tomorrow.
St Aloysius College founded in the year 1880 is run by the Jesuit Priests who are internationally renowned for imparting quality education. They own universities abroad and several schools and colleges throughout India – St. Xavier's College, Mumbai, St. Xavier's College, Kolkota, St. Joseph's Autonomous College, Trichy, Loyola College, Chennai, St. Joseph's Arts & Science College, Bangalore and St. Joseph's Commerce College, Bangalore, are a few of them
The St Aloysius College campus is spread over 35 acres on Light House Hill in the heart of the city of Mangalore. The main structures are the Administrative Block, the Xavier Science Block, the Information Technology Block, the Research and Management Block, the Arrupe Block, the Computer Centre, the Arts and Commerce Block, Loyola Block, Gonzaga Block, the auditorium, hostels, a branch of Central Bank of India and Cafeteria. The Internationally famous Chapel with century-old frescoes by Br. Antonio Moscheni SJ is the major attraction in the campus and is visited by tourists from India and abroad.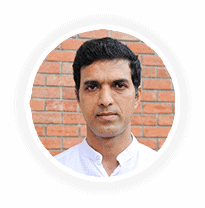 Dr Fr Melwyn Pinto SJ
Director
Masters in Journalism and Mass Communication;
Ph.D from Dept of Journalism and Mass Communication,
Kuvempu University, Shivamogga.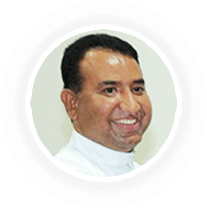 Dr Fr Praveen Martis SJ
Principal
Masters in Chemistry from St Joseph's College, Bangalore;
PhD from the department of Chemistry and electrochemistry of surfaces, University of Namur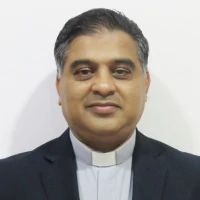 Rev. Fr Melwin J. Pinto SJ
Rector, St Aloysius Institutions
Vice President, Mangalore Jesuit Educational Society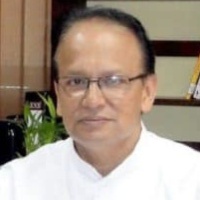 Rev. Fr Denzil Lobo SJ
Founder Director
M.Sc. (Chem), MS(US) –
First Director of AICS, AIBA and AIMIT