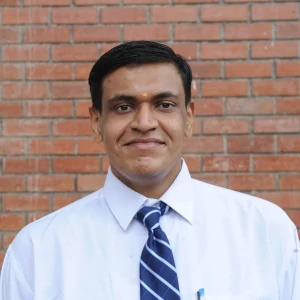 Mr Vinay Krishna
Assistant Professor, Post Graduate Department of Business Administration
MBA (Finance), 2012, Mangalore University; NET (Management), PhD (Pursuing)
Publications
Prashanth, Vinay, Varsha (2019). "A Study on Volatility of Sensex with Special Reference to Major Market Players", International Journal of Management, IT & Engineering, Vol. 9 Issue 7, ISSN: 2249-0558 Impact Factor: 7.119.
Vinay, Ravisha, Suresh (2018) "A Study on Airtel Payment Bank Ltd", MSNM Besant Management Review, Volume 1, Issue 1, ISSN: 2016067664.
Vinay, Ravisha, Suresh (2017)." A Study on Attrition Level of IT And Manufacturing Sector", Global Academic Research Journal, Vol.5 Issue 6, ISSN: 2347 – 3592, Impact Factor: 5.56.
Vinay, Ravisha (2016) "Managing The Performance of The Women Employees at The Work Places", EPRA International Journal of Multidisciplinary Research, Volume 2 Issue 10, ISSN 2455-3662, Impact Factor 3.395.
Research presentations
Presented paper on "Impact of Covid 19 on banking stocks: An event study" at National conference organized by SDM College of Business Management Post Graduate center for Management Studies and Research, Mangalore on 15th July 2022 "Role of Youth in the Agricultural Sector" Department of Postgraduate Studies and Research in Commerce Mangalore University in Association of ICSSR 25 & 26 October 2019.
3rd international conference on Innovation and digitalization- strategies for Global Collaboration Conducted by Centre for Postgraduate studies and Research St. Agnes College on 20/01/2020.
"Innovation in Payments and Settlement Process a Slow and Steady Growth Towards an Evolution of Transaction" –A Decade of Global Financial Crises; Antecedents, Aftermath and The Challenges Ahead –AIMIT 9 April 2019.
"Impact of Human Resource Management to Survive in the Food Processing Industry". Tourism and Hospitality Industry in India –Moti Mahal College of Hotel Management 2 February 2019.
Corporate Social Responsibility with Reference to Banking Sector"-Consolidating Social Enterprises through CSR Imitative: Issues and Challenges in AJ Institute of Management in Association with Karnataka Private Post Graduate Colleges Association 14/15 December 2018.
"Knowledge Management is an Asset to Build Career"-Corporate Social Responsibility: Challenges and New Initiatives Conducted by Department of Post Graduate Studies in Research in Commerce ICSSR 14/15 September 2018.
"Impact of Higher Education to Encourage Women Entrepreneur" –Youth Entrepreneur in the Current Competitive Arena Conducted by Besant Women's College 31 October 2018.
"Developing Agriculture Market in India" Rural Opportunity –An Unexplored Terrain SDM Post Graduate Center for Management Studies and Research 24 February 2018.
"Role of Family Businesses in Development of Economy"-Family Business Opportunities Challenges and Issues MSNM Besant, 3 November 2017.
ISBN No.: 978-93-5281-474-9 "Knowledge Management in Institution Develops Professional Qualities in Students" Implications of Research in Banking, Management, IT, Education and Social Sciences Srinvas Institute of Management Studies, 19 August 2017.
"GST Implementation & Implications with Reference to Agricultural Tools and Equipment's Business in DK"-National Conference Pay India, University Evening College 11 March 2017.
"Digital Economy and Cashless Economy- The Cost of Going Cashless"-Digital India Prospering India- Canara College 2/3 March 2017.
"Global Tourism Branding"- National Conference on Global Brand Building, SDMIT 3 March 2017.
"Challenges and Perception of Digital Wallet with Reference to Paytm" National Conference on Green Banking Perceptions and Challenges, University College 1/3 February 2017.
ISBN: 978-93-5267-950-8. "Brexit and Its Impact On Research"-International Conference on Brexit, MSNM Besant,2/3 February 2017.
ISBN: 978-93-5254-233-8 "Security and Safety Issues With Hand Held Devices"- Exploring Innovative Management Practices to Achieve Make in India, MSNM Besant, 5 February 2016.
"Enhancing Outreach of Micro Finance Role of Technology" National Conference –Microfinance: Growth Engine for Rural Economy Canara College 29/30 January 2016.
"A Study on Employee's Attrition Rate In Indian Companies" National Conference on Issues and Challenges in Global Workplace conducted by Besant Women's College 29 October 2015.
"A Study of Employee's Performance for the Productivity of Industry Reference to Hotels in Mangalore" National Conference Contemporary Research Issues in Business and Management MAPS College 1 October 2015.
"The Other Half from Equality to Equity-Female Doctors in Mangalore""FEMCON-2014 University College Mangalore 22/23 April 2014.
Other significant achievements
1 day MDP on HR Analytics organized by Department of Business Administration St. Joseph Engineering college and Management, May31, 2022.
Universal Human Values 5 DAYS' REFRESHER PART-I conducted by AICTE from 10th January to 14th January 2022.
AICTE Training And Learning (ATAL) Academy Online Elementary FDP on "Consulting: Building a Vibrant Industry-Academia Ecosystem" from 2021-07-26 to 2021-07-30 at Prin. L.N. Welingkar Institute of Management Development and Research, Bengaluru.
Attended a 5 day online FDP organized by AICTE on "Examination Reforms" from 22 April 2020 to 26 April 2020.
Attended 2 Day IIC Innovation Ambassador Program Conducted by MHRD and AICTE on the Topic of Design Thinking in Education 26 & 27 February 2020.
One day Workshop " Global Accelerated Leadership Programme" organized by Department of MBA, St Aloysius College, AIMIT, Beeri, Mangalore on 15th July 2019.
Attended 2-day workshop on Research Paper Writing and Journal Publication Skills organized by PG Dept. of Business Administration Beeri on 17 & 18 July 2019.
Attended 3-Day Workshop on Case Study Approach on Research Paper Writing Skills Organized by Department of Commerce Manipal Academy of Higher 8/10 May 2019.
Attended 5 Day FDP on Idea Generation and Innovation Organized by NITK STEP, 29 October to 2 November 2018.
Attended 2-Day Workshop on KSSPL Ports Summit Organized by Manipal Academy of Higher Education 29/ 30 November 2017.
Attended 6-Day Workshop on Research Methodology in Social Science organized by Department of Management Studies – IIT Madras. 2/7 January 2017.
Attended 1-Day Workshop on Sourcing and Execution of Research Projects Organized By MSNM Besant Institute of PG Studies 2016.